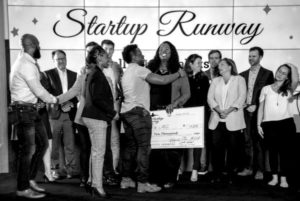 For under-represented founders, the process of pitching for investors can be an amorphous one. Therefore, after watching ten pitches from the spring 2018 Startup Runway competition as a part of my work as a junior analyst this year at Valor, I've compiled a list of the three most important things that founders should know before applying to pitch competitions such as ours.
Startup Runway, by the way,  is a pitch competition hosted and founded by Valor that showcases under-represented founders. Twice a year, founders compete for a $10,000 strings-free grant presented by Cox Enterprises with the support of other sponsors including Slalom, the Metro Atlanta Chamber, and Write2Market. Not only is there a cash grant, there's access to dozens of seed stage investors and direct coaching from mentors and member of Valor's Innovation Council.
Having a people-centric WHY is critical.
Every entrepreneur has a story behind their company, and for underrepresented entrepreneurs, this is especially true. Women and minorities face unique challenges in American society, but entrepreneurs tend to see those challenges as opportunities. I was particularly impressed by companies like The Biz Nation and Blossom.
In the case of the Biz Nation, co-founder Stephanie Carvajalino decided to create an online platform to educate young people on entrepreneurship and other skills needed to be a productive member of the workforce after recognizing the "skill gap" that keeps youth both in the United States and in Latin America from attaining high-paying jobs.
For Diamonde Williamson, it was the lack of digital content for women of color that led her to start Blossom, which helps women of color find and watch a wide range of digital content that appeals to their personal interests and perspectives. Behind these and other stories is a why centered on uplifting people from their communities. It's those why's that are winners!
Demonstrate not only your commitment to diversity, but also your commitment to creating an inclusive company culture.
I've heard it said that "diversity is head count, but inclusion is culture." It was certainly refreshing to see the diversity of the leadership teams of the start-ups in the pitch competition. Having such a diverse team will allow such companies to most effectively solve society's most pressing problems and will ensure that they can continue to recruit candidates from a wide variety of backgrounds. However, diversity is only the first step. It's vital that once diverse team members come on board, they feel like they're joining a team that is welcoming and truly values them. Otherwise, the very steps taken to diversify a company could quickly be erased.
The economics have to make sense for an investor. Make sure that the market size that your service addresses makes sense.
While investors love supporting companies with great stories, the economics must make sense for them as they want to ensure that their investment will pay off financially. A key metric that an investor considers is the market size that the company's service addresses. The bigger the potential market and the more focused your solution is on addressing a pain in that market, the more likely they are to invest.
One of the grant winners last year, ReciproCare, highlighted the fact that 117 million people depend on home care services and their platform can help each of them access more convenient caregivers. Watch how this winning pitch went down.  Be sure that your start-up provides a service in a large market and that you highlight that fact in your pitch.
Happy pitching–and applications are open for our Startup Runway's next grant season. See you there!
[button open_new_tab="true" color="see-through-extra-color-gradient-1″ hover_text_color_override="#fff" size="large" url="https://startuprunway.co/how-to-apply-f6s/" text="Apply to Pitch Startup Runway" color_override=""]
---
This post was contributed by Valor junior analyst Gevin Reynolds. Reach him at gevin@valor.vc.