At Valor, our purpose is to invest and return capital to our investors, but our mission is to make inclusion the new normal in venture capital. Inclusion is one risk factor that investors can influence, and we do, both from an information rights perspective, a coaching perspective, and a talent recruitment platform perspective. When you look across strategies (hedge, PE, public), the big picture is that "outlier" perspectives almost always drive outperformance: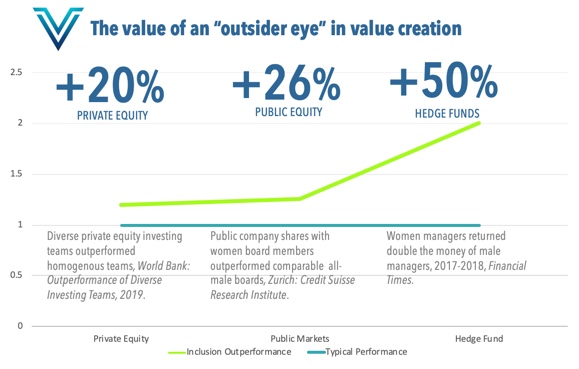 We've thoughtfully built our platform to drive inclusive culture as a means of accelerating innovation, growth, and access to top talent. High returns and impact increasingly go together, but it's amazing how few people are aware of this. For example, 71% of venture capital teams have 0 women on the investing team, much less persons of color.
Inclusion is an investment risk factor investors can manage.
I was in New York earlier this week taking meetings with leaders interested in how inclusion drives performance, including Stephanie Cohen's impressive team at the "Launch with Goldman Sachs" initiative. I got several requests for the research we use to inform our platform, in addition to almost 50 years of experience between our 3 partners in being those "outsider eyes." Below, I'm sharing a few of the many foundational pieces that help shape the work at Valor, and hope you enjoy the reads.
We find that the gender gaps in the representation of women as allocators and recipients of capital put access to financing at risk for female entrepreneurs and may reduce investment returns for funds.
While the majority of investors perceive the funding landscape as balanced, their actual investments in multicultural and women-owned businesses are highly skewed.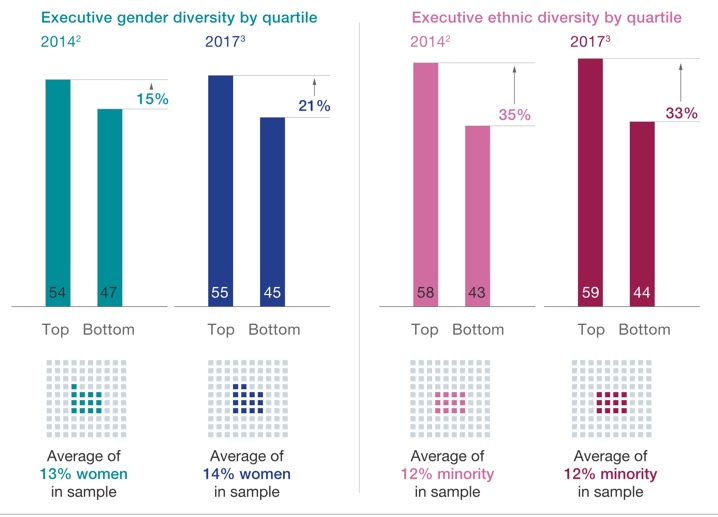 In a 17 year study of traders,
The study matched daily trade by male and female individual investors in Nokia and 27 other major Finnish stocks and found that there was a gain to female investors of €194.17 million ($276.60 million) over the time period, representing a continuous compounded rate of return of 21.44% per annum, rising to 43.16% per annum just for the main stock, Nokia. Women individual investors also outperformed domestic and international institutional investors with an even more substantial gain of €1,654.24 million.  'We concluded that female investors prefer to buy underpriced stocks and sell overpriced stocks – compared with moving average prices,' says Swan.
The ability to scale up—not start up—is at the heart of the opportunity gap

Latinos make up 17 percent of the U.S. population, and 24 percent of all new entrepreneurs. This means that Latinos are actually overrepresented among startups. However, these new business starts— measured at the moment of creation, regardless of revenue or employment size—are not scaling at high rates.
Hedge funds run by women have generated returns two times higher than their male counterparts this year, piling further pressure on a sector that has been branded "male, pale and stale" to recruit more female portfolio managers. The HFRX Women index, which pulls together the performance of female hedge fund managers, has returned 9.95 per cent for the first seven months of the year. This compares with 4.81 per cent for the HFRI Fund Weighted Composite index, a broader gauge of hedge funds across all strategies and genders.
Credit Suisse Research Institute, Gender Diversity

The Impact on Corporate Performance 2005–2011 (Zurich: Credit Suisse, 2012).
In testing the performance of 2,360 companies globally over the last six years, our analysis shows that it would on average have been better to have invested in corporates with women on their management boards than in those without. We also find that companies with one or more women on the board have delivered higher average returns on equity, lower gearing, better average growth and higher price/book value multiples over the course of the last six years.
What's even more interesting than the clear and broad trends, are the stories we get to participate in every day. From our investments like MapMyCustomers, a white-male led SaaS software team that's committed to inclusion as they scale, to our latest investment, The Gathering Spot, the urban community engagement platform from African American co-founding duo Ryan Wilson and TK Petersen, the world is changing. Outlier founders are re-inventing the world with inclusion at the core. I'm grateful Valor is there to get behind them.