Snapshot of Software Acquisitions in the Southeast
"If we just had a billion dollar exit for a software company," the story goes, often over black coffee in an upscale brick diner with fancy biscuit plates and even fancier fried chicken salads. "That would put the Southeast on the map," you hear.  
To sharpen our own perspective on the pace of notable software exits in our region, Valor recently reviewed 121 acquisitions with a deal value of $50 million or over. We went back to from 2004 and brought it forward until February 2019. We used the data in Crunchbase.  That data is crowdsourced so it's a bit messy and far from perfect, but we know it's great for directional sampling such as our interest here. Breaking down the time period, there's strong acceleration of value creation in the southeast from software exits. Just look at the ramping timeline: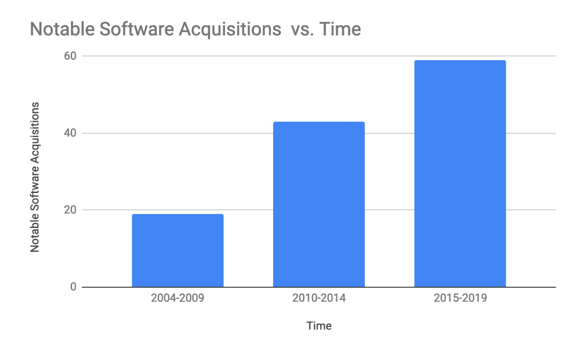 19 acquisitions from 2004 to 2009

43 acquisitions from 2010 to 2014

59 acquisitions from 2015 to 2019 (February–plenty more fun ahead in 2019).
The Southeast is on pace for one $50 million+ software acquisition a month in 2019.

87% of software acquisitions over 50 million in the last 15 years are concentrated in the top four states:
Virginia (29%),

Georgia (27%),

Florida (17%), 

North Carolina (12.5%).

Alabama, Kentucky, Louisiana, Mississippi, South Carolina combined account for 7.5% of the acquisitions.

Texas accounts for 4.5%.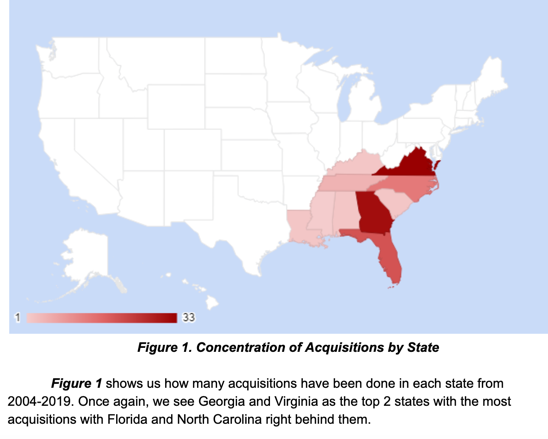 When breaking down the total deal values,  the top four are North Carolina (34%), Florida (24%), Georgia (19%), and Virginia (19%).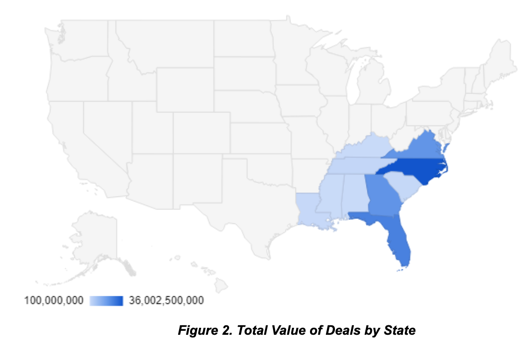 Despite having the 4th most acquisitions, North Carolina has the highest amount of total value, and in part that's because of the Red Hat acquisition by IBM for $34 billion skewing the data. Florida, Virginia, and Georgia are right behind NC, each with over $20 billion in acquisitions over the time period. What stands out most, when you take out spiky deals, is a picture of a strong, healthy region regularly scaling software firms of substantial size. 
The density of software activity is not concentrated in one city, but spread in ecosystems.
For example, Figure 3 shows us large concentrations of acquisitions in zones of Georgia (Atlanta, Alpharetta, Norcross), zones of north Virginia (Herndon, Fairfax, Arlington, Vienna, McLean), areas of North Carolina (Raleigh, Morrisville, Durham) and also areas in Florida (Tampa, Jacksonville, Fort Lauderdale). There many other deals scattered across the SE, but these 4 states are the epicenters of the SE software market. In practical terms, the communities creating the value are complex, interrelated environments that don't easily break down into political structures like city boundaries.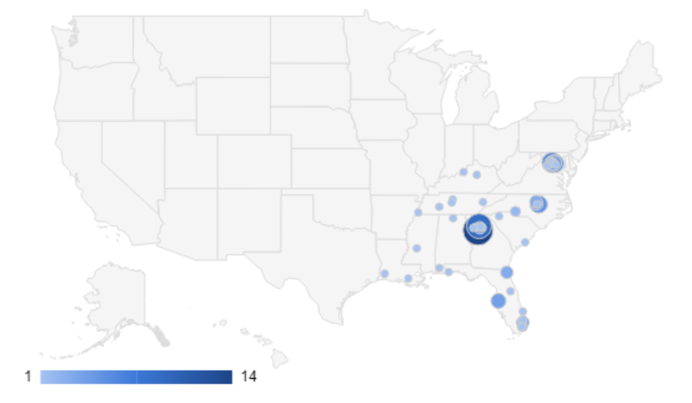 The Southeast:  more billion-dollar-plus software acquisitions
Back to the point about billion-dollar companies. Eight billion-dollar-plus software acquisitions in the last 15 years took place in Georgia. All were within 10 miles of Valor's office at Atlanta Tech Park.  Virginia was next-closest, with 5 billion-dollar-plus transactions.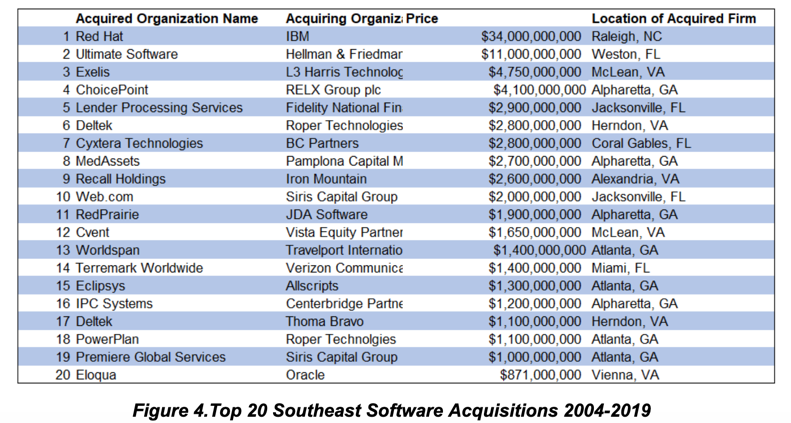 From our headquarters in Atlanta, Valor is bullish about the rising opportunity in the region. We are committed to finding value at first financing on a national level and are pleased by the growing strength in our background. There's no doubt this region is accelerating its pace of notable, multi-billion dollar software exits. Many of these exits are to private equity–meaning the value from the local software company is still growing. And sure, most of them are b2b–not as easy to roll off your tongue as the consumer-based transactions that are more prevalent on the West Coast. But next time you're having coffee with someone bemoaning our lack of billion-dollar-plus software transactions in the Southeast, maybe it's time to start buttering biscuits with more insight into our complex, but undoubtedly scaling, success.

–Authors: Zhaohan Amanda Li and Michael Pellegrino, Valor junior analysts. For questions about this report, please reach out to amanda@valor.vc and michael@valor.vc directly.