by William Leonard
For startups in the Southeast, the funding amount sought skewed up 45% in Q2 2021 as global venture funding saw funding records shattered. In tandem with valuations ballooning within the region, female founders in the Southeast were consistently seeking to out-raise male founders at the seed stage. An overall positive trend, one can likely attribute this to the substantial funding gap between men and women founders at the pre-seed stage as VCs invest about 45% of the capital in women as they do in male founders in the Southeast. Retrospectively, valuation increases over the past three months mark a trend underpinned by the impending economic resurgence and influx of capital flowing through the venture ecosystem, which saw $125B deployed in Q1 and $288B across the first half of the year.


Summer Fundraising Heats Up In The Southeast
June saw the valuation gap significantly decrease for Southeast founders as valuations continued to creep toward the national average. Relative to other regions, the Southeast maintains its significant lead in value at first venture capital valuation. On average across the Southeastern US in June 2021, B2B software startups we encountered were seeking an average of $2.6M for their seed and post seed funding rounds. Assessing fundraising through a national lens, B2B software startups raised an average of $3.4M in seed and post seed funding during the month of June. While valuations weren't explicitly outlined, we assume a relationship between the amount of capital sought and relative valuation. One could infer that there was a near 23% difference in Southeast startup valuations compared to the US national average, according to Crunchbase data for June 2021. Reflecting on our May findings, there was an assumed 53% difference in valuations.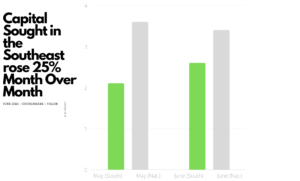 Southeast Startups Are Raising More Prior to Seed
As a whole, June data shows Southeast startups raised an average of $1.4M prior to the current funding they're seeking, compared to the Crunchbase June national average of $2.7M for the month of June.

Southeast Female Founders Continue To Seek More Capital Male Founders
Female led startups were raising an average of

$2.72M

compared to male led startups who were seeking an average of

$2.68M

in funding.

Further insight into each company's

prior

funding history shows female led startups had raised an average of

$963K

compared to their male counterparts who had raised an average of

$709K

, only a 30% difference compared to last month where we saw a 76% difference in favor of men.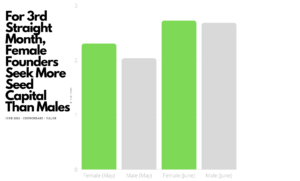 With droves of capital flowing through the venture ecosystem, founders across the southeast are opportunistically doubling down and raising more capital to accelerate internal growth, solidify channel partnerships, and to hone in on go to market strategies. Traditionally, there's a summer slow down in fundraising and venture activity, but the uptick in valuations and prior funding likely signal otherwise as we have our eyes peeled to see if these trends continue throughout the month of July. As an Investor at Valor, I'm privileged to source and invest in startups across the Southeastern US. Through outbound sourcing, inbound communications, and referrals I speak with dozens of companies each week. Valor's database of Southeastern founders has become one of the most comprehensive datasets thanks to our rigorous tracking practices. 
Sticking to our monthly cadence, we will continue to track what we're seeing relative to valuations, fundraising patterns, and other trends emerging from the Southeast startup ecosystem. Follow Valor on Twitter and LinkedIn to stay abreast of our monthly updates on seed stage founders in the Southeast.
About Valor
Founded in 2015 to create premium venture capital returns with Valor's Inclusion Premium strategy, Valor invests in experienced-based founders building B2B software at the first professional round. We focus on the fastest-growing, largest region in the US, the Southeast, which features 40% of the U.S. population and the greatest density of under-represented founders.
– William Leonard