The last 4 months have illustrated Southeast founders harnessing global funding trends within both the public and private markets as they seek to double down and obtain greater sums of capital to accelerate internal growth and support their innovative aspirations. Traditionally, there's a summer slow down in fundraising and venture activity but with global venture funding averaging $50B per month through July and total funding remaining at all-time records for the last 2 months, Southeast founders are not sitting on the sidelines and letting capital escape to other regions. Looking from a different angle, public valuations are also shattering records. According to a recent Crunchbase report, cumulative total public debut valuations for venture-backed startups who went public in the first seven months of 2021 surpassed $1 trillion collectively. Anticipate a continued trickle down effect of public market valuations to the early stage private market in the Southeast region and expect funding volume, valuations, and velocity to remain elevated.
Month over month from June, Southeast implied valuations rose almost 60%. The rise in implied valuation falls right in line with national and global funding trends as an all-time record $61B was invested globally over the last 31 days according to Crunchbase. Since April, Valor has observed and documented a consistent uptick in implied startup valuations within the region. Given the plethora of venture funds forming in the Southeast to support ecosystem growth, we expect this trend to continue for the foreseeable future in a region where many are moving to escape the financial, economic, and environmental pitfalls other regions pose for young startups.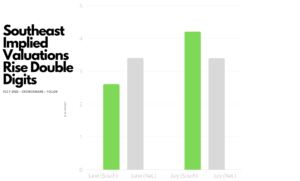 Southeast Seed Stats From July 2021
Data collected in July shows Southeast startups raised an average of $1.1M prior to the current funding they're seeking, compared to the Crunchbase July national average of $4.8M. The funding gap at the pre-seed stage has remained a pressing issue for Southeast founders, particularly women founders who historically see about only 45% of the capital men do at the pre-seed stage. Analyzing the July Southeast data, male founders had raised an average of $650K at pre-seed compared to $572K for female founders, a 12% difference. If you read our post dissecting last month's figures, you'd recall a 30% difference in prior funding for both groups.
In last month's Q2 report, we documented Southeast startups seeking relatively higher implied valuations across the quarter. As droves of startups begin to build and relocate their businesses and teams to the Southeast, cities like Atlanta, Raleigh, and Birmingham are reaping the immediate dividends of startups moving from high tax, high cost of living areas like The Bay Area and New York. For example, just in the first half of 2021 Atlanta startups raised more than $2B in funding, far outpacing capital raised in the city across all of 2020. Native West Coast giants like Microsoft, Apple, and Airbnb recently unveiled plans to establish East Coast campuses across Raleigh and Atlanta due in large part to the increasingly diverse talent pool that has experienced the highest increase in growth rates for completed technology degrees over the last 6 years according to a recent CBRE Report. The report also mentions how the volume of tech talent in Atlanta has risen 15% over the last 5 years as the average annual salary of tech workers also grew around 15% in the region.
Being home to over 40% of the country's population, the Southeast's path to prominence is clear. The region is poised to continue the startup momentum that has led to the Southeast becoming an increasingly attractive destination to build your business, especially as many flee West Coast wildfires, sky high tax rates, and the inequitable cost of living standards.
As an Investor at Valor, I'm privileged to source and invest in startups across the Southeastern US. Through outbound sourcing, inbound communications, and referrals I speak with dozens of companies each week. Valor's database of Southeastern founders has become one of the most comprehensive datasets thanks to our rigorous tracking practices. Sticking to our monthly cadence, we will continue to track what we're seeing relative to valuations, fundraising patterns, and other trends emerging from the Southeast startup ecosystem. Follow Valor on Twitter and LinkedIn to stay abreast of our monthly updates on seed stage founders in the Southeast.