by William Leonard, Investor
For two consecutive months we've documented women raising larger sums of capital, an overall positive trend at the seed level in the Southeast. Findings illustrate that while VCs invest about 45% of the capital in women as they do in male founders in the Southeast, numbers show female founders at the seed level are seeking to close the gap.
Female Founders Seek 12% More Capital Than Male Founders At Seed
In May 2021, Seed-stage female led startups were raising an average of

$2.3M

compared to male led startups who were seeking an average of

$2.03M

in funding.

Data breaking down each company's

prior

funding history shows female led startups had raised an average of

$491K

compared to their male counterparts who had raised an average of

$1.09M

, a whopping 76% difference.

Crunchbase data shows this trend holding true on a national basis as female founders raising seed rounds in May sought an average of $6.1M

in comparison to male founders who were seeking an average of

$3.6M.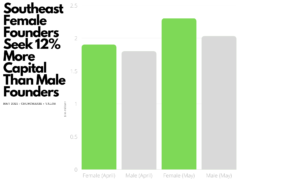 The Southeast Startup Valuation Gap Narrows
Across all founders on average across the Southeastern US in May 2021, B2B software startups we encountered were seeking an average of $2.1M for their seed rounds. Looking through a national lens, B2B software startups raised an average of $3.6M in series seed funding. While valuations weren't explicitly outlined, we assumed a relationship between the amount of capital sought and relative valuation. Assuming the amount sought is closely related to valuation, one could infer that there was a near 53% difference in Southeast startup valuations compared to the US national average, according to Crunchbase data for May 2021. These updated figures represent a near 7% decrease in valuation difference from our findings regarding Southeast founders in April.
Relative to other regions, the Southeast maintains a significant lead in value at first venture capital valuation.

Southeast Startups' Prior Funding Picture
As a whole, data shows Southeast startups in May startups raised an average of $890K prior to the current funding they're seeking compared to the Crunchbase national average of $5.4M for the month of May.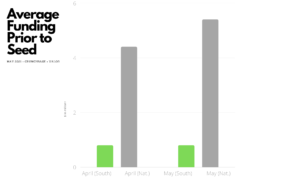 Looking at the May figures, the vast funding gap at pre-seed presents investors with the perfect opportunity to re-write the status quo by adequately funding more women founders at this level. I believe as women continue to raise larger seed rounds, the industry will reach a crucial inflection point where we see larger sums of capital raised by women prior to their seed rounds. As an Investor at Valor, I'm privileged to source and invest in startups across the Southeastern US. Through outbound sourcing, inbound communications, and referrals I speak with dozens of companies each week. Valor's database of Southeastern founders has become one of the most comprehensive datasets thanks to our rigorous tracking practices.  Sticking to our monthly cadence, we will continue to track what we're seeing relative to valuations, fundraising patterns, and other trends emerging from the Southeast startup ecosystem. Follow Valor on Twitter and LinkedIn to stay abreast of our monthly updates on seed stage founders in the Southeast!
Join me next week
If you're interested in getting more aligned on the pre-seed ecosystem in the Southeast, join me next week for the Startup Runway Angels first meeting. (See if you qualify here.) I'll be reviewing some of the top founders we spoke with seeking funding in our region at the pre-seed level.
About Valor
Founded in 2015 to create premium venture capital returns with Valor's Inclusion Premium strategy, Valor invests in experienced-based founders building B2B software at the first professional round. We focus on the fastest-growing, largest region in the US, the Southeast, which features 40% of the U.S. population and the greatest density of under-represented founders.
– William Leonard