by William Leonard, Investor
Founded in 2015 to create premium venture capital returns with Valor's Inclusion Premium strategy, Valor invests in experienced-based founders building B2B software at the first professional round. We focus on the fastest-growing, largest region in the US, the Southeast, which features 40% of the U.S. population and the greatest density of under-represented founders. 
As an Investor at Valor, I'm privileged to source and invest in startups across the Southeastern US. Through outbound sourcing, inbound communications, and referrals I speak with dozens of companies each week. Valor's database of Southeastern founders has become one of the most comprehensive datasets thanks to our rigorous tracking practices. I'd like to share a few insights based on the companies I reviewed in April.
Southeast Founders Are On the Hunt For Capital
On average across the Southeastern US in April 2021, B2B software startups I saw were seeking an average of $1.8M for their seed and post seed funding rounds. Looking at a national comparison, B2B software startups raised an average of $3.3M in seed and post seed funding. While valuations weren't detailed explicitly, we assumed a relationship between the amount of capital sought and relative valuation. Assuming the amount sought is closely related to valuation, one could infer that there was a near 59% difference in southeast startup valuations compared to the US national average for April, according to Crunchbase data.

The Prior Funding Picture
Collectively, these startups had raised an average of $882K prior to the current funding they're seeking compared to the Crunchbase national average of $4.4M.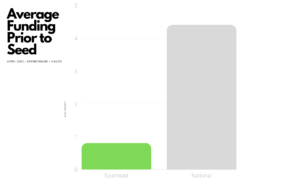 Female Founders We Spoke To in April Sought More Capital Than Male Founders
Female led startups were raising an average of

$1.9M compared to male led startups who were seeking an average of $1.8M in funding.

Data breaking down each company's prior funding history shows female led startups had raised an average of

$592K

compared to their male counterparts who had raised an average of

$983K

.  

Startups we spoke with show white male founders had raised an average of $945K prior to their seed rounds.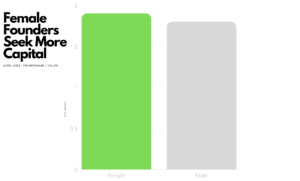 Following a monthly cadence, we will continue to track what we're seeing to identify more well defined patterns underpinned by macroeconomic tailwinds and headwinds within the Southeast Startup ecosystem. Follow Valor on Twitter and LinkedIn to stay abreast of our monthly updates on seed stage founders in the Southeast!