by William Leonard
With the front half of the year behind us, I believe we're transitioning into an interesting period in the venture funding cycle. Over the last 12 months we've been in a world where abnormally elevated valuations have become the norm rather than the exception. But in August, we observed a valuation decline here in the Southeast and globally.  What once felt like a never-ending free flow of capital could soon be constrained to the point where valuations may fall significantly with a plethora of macroeconomic factors like tightening Covid restrictions, inflation, and deteriorating international relations delivering a trickle down effect.
Good News: Southeast Founders Retain Greater Percentage of Valuations Amid Funding Slowdowns
Valor data from August illustrated a 13% decline in Southeast implied valuations. To paint a better picture, global valuations fell 19% month over month and national Crunchbase implied valuations fell around 4%.  For us this signifies two things: Despite a valuation decline, Southeast founders were able to retain a greater percentage of their valuations relative to their international counterparts and the region as a whole maintains its meaningful lead in value at first venture capital valuation.
Southeast Seed Stats From August 2021
Further insight into our August data shows Southeast startups raised an average of $1.6M prior to the current funding they're seeking. Contextually we believe this means Southeast founders remain a strong contender for the best value for investors.  The Crunchbase August national average raised before seed was $3.9M.
A closer look finds male founders had raised an average of $1.09M across angel and pre-seed rounds compared to $1.01M for female founders, a slim 7% difference in comparison to our July blog where we observed a 12% difference in prior funding for both groups. The gender funding gap at the pre-seed stage has remained a pressing issue for Southeast founders, particularly women founders who historically see about only 45% of the capital men do at the pre-seed and angel stage.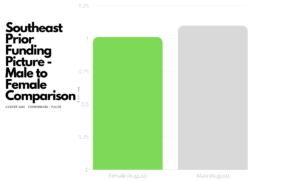 As an investor, I encourage founders, stay true to your principles, core ideals, and lean mentalities. Remember that valuation is not a direct correlation to success, relentless execution is. You've set out on this journey to build; continue to execute, iterate, refine and the valuation will come.
At Valor, I have the ultimate privilege of sourcing and investing in startups across the Southeastern US. Through a crafted outbound sourcing process, inbound communications, and referrals, I speak with dozens of companies each week. Valor's database of Southeastern founders is continuously evolving to become one of the most comprehensive datasets thanks to our team's rigorous tracking practices. Sticking to our monthly cadence, we will continue to track what we're seeing relative to valuations, fundraising patterns, and other trends emerging from the Southeast startup ecosystem. Follow Valor on Twitter and LinkedIn to stay abreast of our monthly updates on seed stage founders in the Southeast.