Valor 2021 Venture Capital Impact Report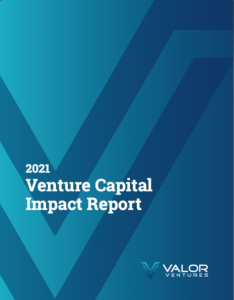 In this second annual report on how Valor continues to pioneer equitable wealth creation for all innovators, we're inviting you inside. Explore our 2021 Valor Venture Capital Impact Report and learn more about who we are and how we think. More importantly, see how we act. Our entire team is focused on creating top performance on the most exciting frontier in new wealth creation now: inclusion.
This report includes:
Valor portfolio workforce gender and ethnicity data
Valor portfolio gender and ethnicity by investment dollars distributed
Valor team gender and ethnicity
Valor's investors' gender
Valor general partnership and investment committee diversity and inclusion
+Much more on creating Valor's fully integrated, disruptive venture capital platform for the seed stage
Investors and consultants, please request your own copy of this game-changing 19-page report.
100% of our portfolio shares their journey on ethnicity, gender and team diversity.
Since 2015, Valor has written inclusion clauses into our term sheets.
Our companies embrace inclusion and diversity language in their operational documentation.
Annually, we take a detailed snapshot on how we're doing. We're excited to share it with you. Valor's impact extends across over 600 employees in the Southeast United States.