By Cariana Morales and Erik Stapel, Valor Associates
By the numbers, the Southeast leads the country in innovation potential.
When compared to traditional innovation hubs, such as California (home to Silicon Valley, Los Angeles, San Diego) or New York (including New York City, Brooklyn, Albany, Buffalo), a Crunchbase database analysis reveals that Southeast as an innovation hub is home to more startups ready for their first institutional investment than other ecosystems. 
We derive this from the fact there are more listings, and further, those startup listings are in the same areas (SaaS, healthcareIT, AI, etc.) that are popular in other geographies.  In fact, Southeastern startups are in a non-venture hub area that may repress their motivation to self-list on Crunchbase. Given these contextual realities, it is even more startling to see the Southeast leading in self-reported numbers of startups compared to self-reporting via Crunchbase from California, which includes Silicon Valley, San Diego's startup community, and LA; and New York, which includes not only the city, but also the startup ecosystem more broadly in the state, including Buffalo, Albany and Brooklyn. This is consistent with the concept that entrepreneurship is a function of population–and the Southeast's large and growing population is no disappointment.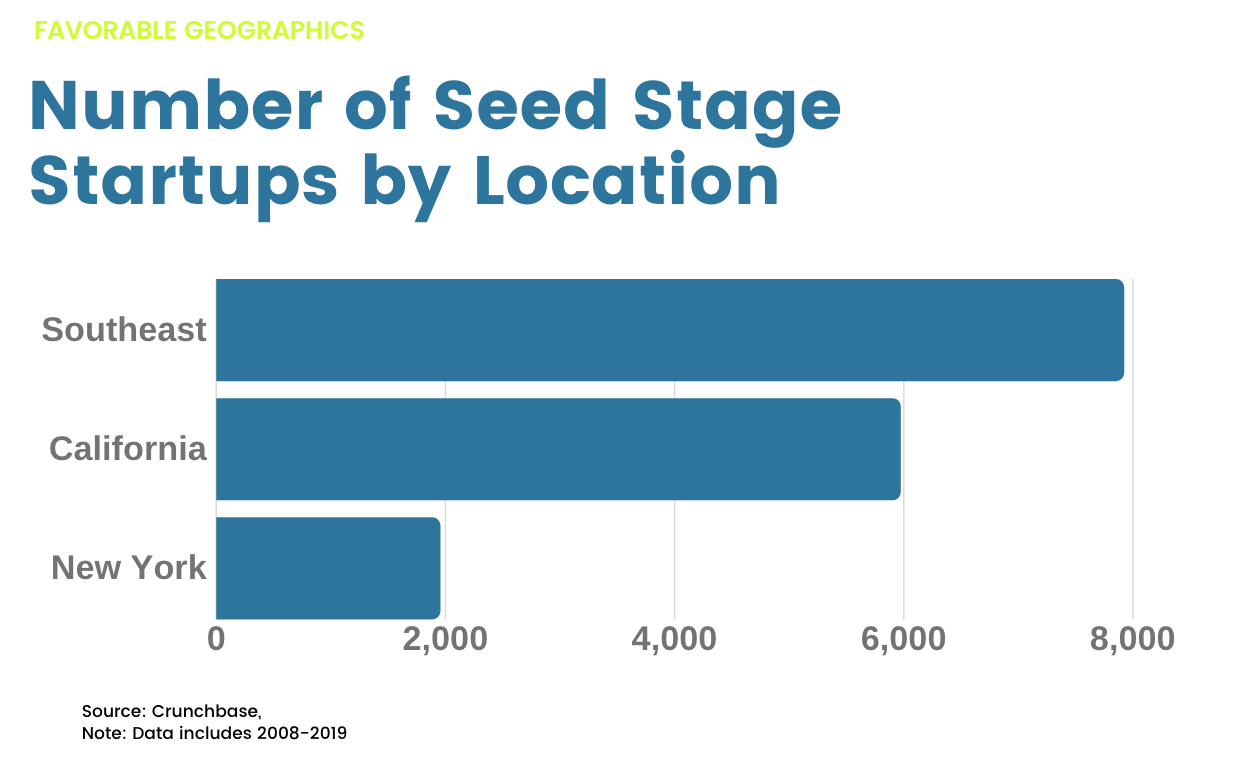 The Southeast population is reported at 125 million in 2019, as compared to 40 million for California and 19 million for New York. The Southeast is also growing faster as an economy than California or New York, with more people moving into the region at a rapid rate. Yet, California and New York receive far greater venture capital dollar allocation than our whole region combined. In fact, the rate of first financing funding of Southeastern startups is less than 30%–half of that in California and New York.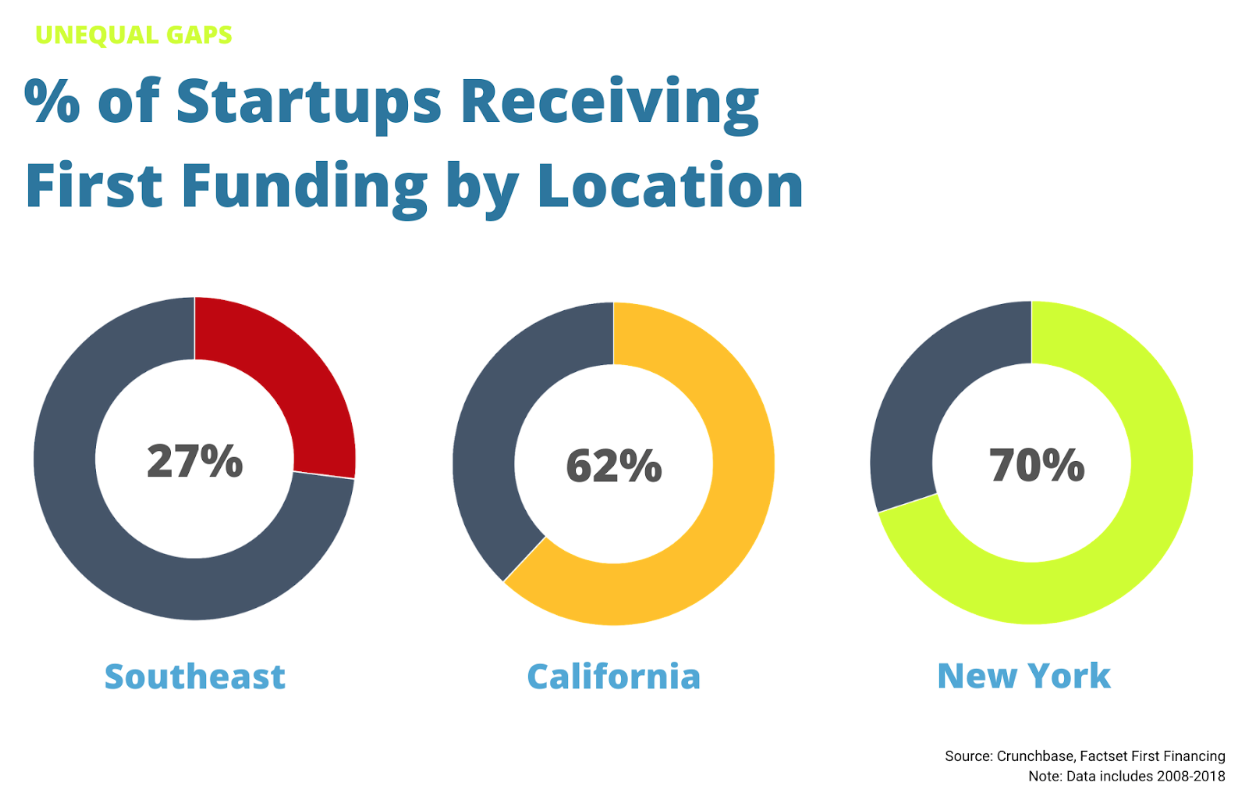 There is no shortage of founders or resources in the Southeast, as many accelerators, conferences, and technology incubators exist. Large research institutions such as Georgia Tech, Duke, University of North Carolina, and many more sprawl this region, consistently encouraging innovation in the region through research and cutting-edge resources.
In addition, the Southeast holds 28% of Fortune 500 companies, as compared to 22% for California and New York combined, offering proximity advantage for billion-dollar exit opportunities not to mention a robust, local enterprise customer base.
Click here for Valor's 2020 white paper on Southeastern innovation and venture capital.
Sources:
Kauffman Fellows, "Median Startup Valuations Are Up to 32% Higher in the Pacific and Northeast Regions," Kauffman Fellows, April 3, 2020.

"Q4 2019 PitchBook-NVCA Venture Monitor," PitchBook, accessed April 9, 2020.
Erin Duffin, "U.S. Fortune 500 Companies 2019, by State," Statista, November 8, 2019.
"Q1 2020 PitchBook-NVCA Venture Monitor," PitchBook, April 13, 2020.
US Census Bureau. "2019 National and State Population Estimates." The United States Census Bureau, December 30, 2019.