My heart is full of hope. We just held our fifth Startup Runway, a half-day event that brings Atlanta together around  up and coming women- and minority- tech entrepreneurs in the South.
ValorVC launched the nonprofit Startup Runway Foundation when we confronted this reality in the venture capital industry: 40% of Founders are minority or women, but 90% of VC funding goes to white male led teams. Today, Startup Runway Foundation has grown to support 50 Finalists, all women or minority-led startups. Finalists are competitively selected. Since we started, we've combed through over 1,000 applications.
Thanks to our generous sponsors, including presenting sponsor Cox Enterprises, Slalom who sponsors our networking, Write2Market the tech marketing agency, and the Metro Chamber, the Foundation is able to offer a $10K grant twice a year. We are one of the only pitch events that does not take equity nor the promise of future equity.
Yasser Boumenir, a Finalist and founder of Prinsta, shared after the event that, "Startup Runway did a fantastic job not only in hosting the event, but also in bringing together a diverse community with ideas and cultivating discussions on how Atlanta can help startups grow and launch. The idea of setting up a board meeting, is fantastic. We were able to discuss critical topics from monetization to strategic partnerships with inputs from a breadth of experts ranging from serial entrepreneurs to seasoned venture capitalists."
'Lessons learning' in inclusive innovation
No one has hacked inclusive innovation completely. It's a true frontier. Regions, cities, companies and people who do are going to win big. Nodding to a recent tweet from Phil Graham, the real winning cities 'aren't where Amazon will build its next headquarters, but the cities where the next Amazon will be built.'
Bringing the future, faster
ValorVC sees Startup Runway as a lab in miniature where investors, minority-and women-led startups, community catalysts like Metro Atlanta Chamber, and innovation leaders like Cox can come together and do the good work of inspired integrating. Integrating means making whole. Until all the top talent is convened around a problem, the flowers of possibility won't bear fruit. In the Southeast, we're at ground zero: 40% of the U.S. population lives here and we have the greatest density of Hispanic, Black and women entrepreneurs. It's an increasingly urgent issue–check out the demographic trends among new entrepreneurs from the Kauffman Foundation: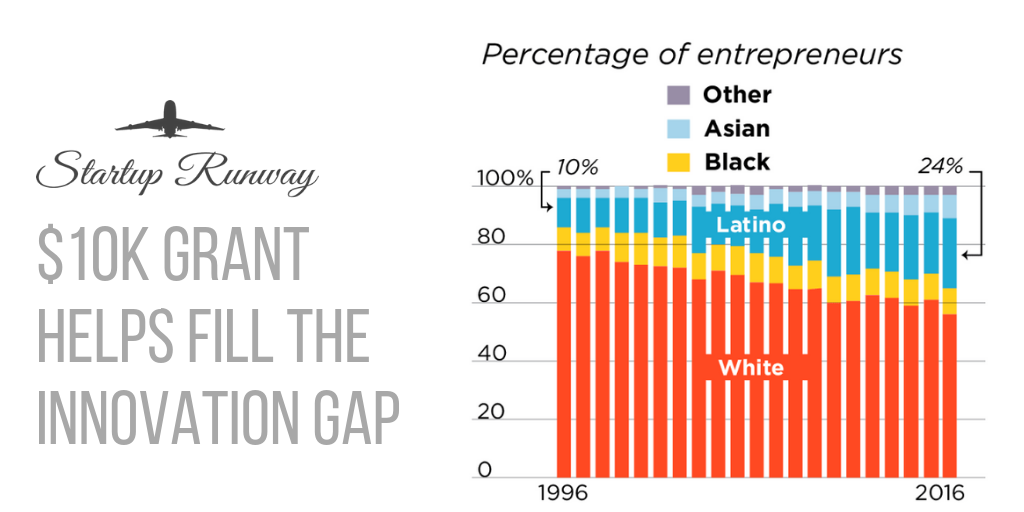 By 2050, the United States majority will be minority. Yet right now, the national reality is 90% of the risk capital in tech goes to just 60% of the future builders. That means we all lose about a third of the harvest of innovation in our nation. Plus, speaking to our niche industry, VC may actually have hidden risk because many are over-investing in one segment over others. To earn wild returns, VCs need risk management strategies now considered wild, but in the future, I'm confident they'll be mainstream.
One thing is clear: the business of innovation is changing. It can change fast.
One of the biggest challenges in bringing real-world innovation to market is the access-to-capital gap for historically underfunded entrepreneurs. Black entrepreneurs, for example, go into twice the credit card debt of white entrepreneurs.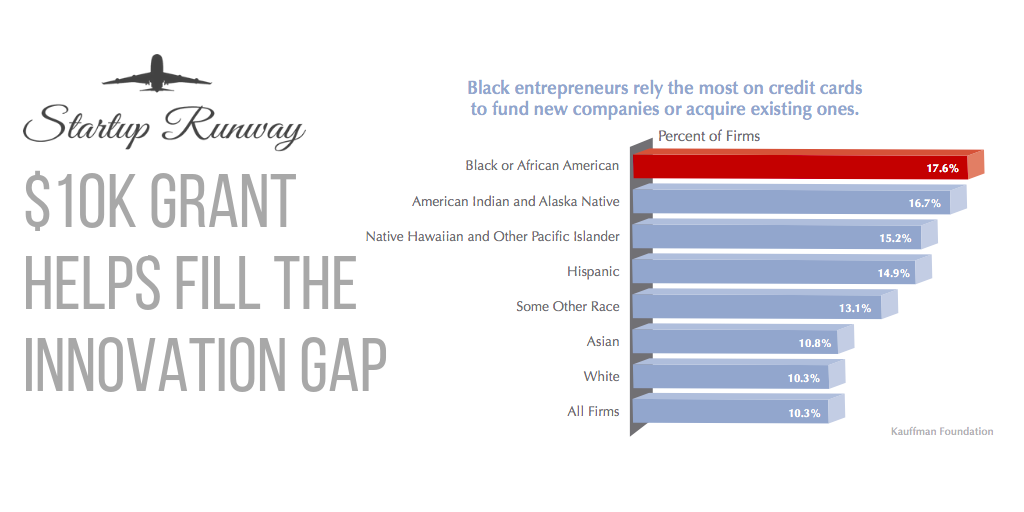 It's even a steeper climb for women entrepreneurs, who start their businesses with 1/6 the capital that men do, according to the latest Amex study. I love it that women have a reputation for capital efficiency–but that's taking a strength to the point of stifling innovation.
Startup Runway wants you with us.
The next Startup Runway is May 2. Consider this your invitation from me and my ValorVC partners Sarah O'Brien and Robin Bienfait to a banquet of inclusive innovation.
Just come. A great crowd of cheering people really makes our Finalists feel seen and heard. Your presence makes a difference. Get tickets on Eventbrite.
Share a startup. Do you know a great woman or minority-led tech company? Have them apply. It's free.
Join as a mentor. If you're a seasoned executive who wants to give back for an afternoon connecting a super-promising startup, apply to be a mentor.
Invest. The Startup Runway Foundation is a nonprofit that partners with several local investors and investor groups–including ValorVC our firm, Atlanta Tech Angels, and the investors who judge and speak at our events like Noro Moseley, Moseley Ventures, Vocap, Tech Square Ventures / Engage, EndeavorATL and more. If you're looking to invest in startups aligned with your values around inclusive innovation, let us connect you to the right platform to do that.
Donate. If your company is looking for a way to champion inclusive innovation and meet a like-minded community, let's talk about the right role for you as a sponsor.
I'm grateful and inspired that Startup Runway helps bring a better future, faster.
With mentoring from knowledgeable leaders, customer connections, and the kindness of committed community, we can be the change the world needs. It takes attention to tap into the next level of innovation, and Startup Runway is a place and a space to catalyze some of that effort. Together, and truly only together, will we bring in a bigger, bolder harvest of innovation. Atlanta has always led in these efforts on a national level. When it comes to tech innovation, it's no different.
This Thanksgiving season, wishing you the bounty and boldness of an even better world, and grateful for the feast the community at Startup Runway is preparing for all of us. See you at the next Showcase!