What if you knew where the best companies were growing fastest, and where your capital could fetch the most premium return?
Read on for a layering of information that might help inform your perspective on where that would be.
The returns needed for big venture capital opportunities. Historically, investing early in innovation has paid off better than most other investments. Here's a chart from the American Investment Council that shows the historical 20 year return of lots of types of investments, including popular private equity investments like distressed, mezz debt and of course, my favorite, venture capital.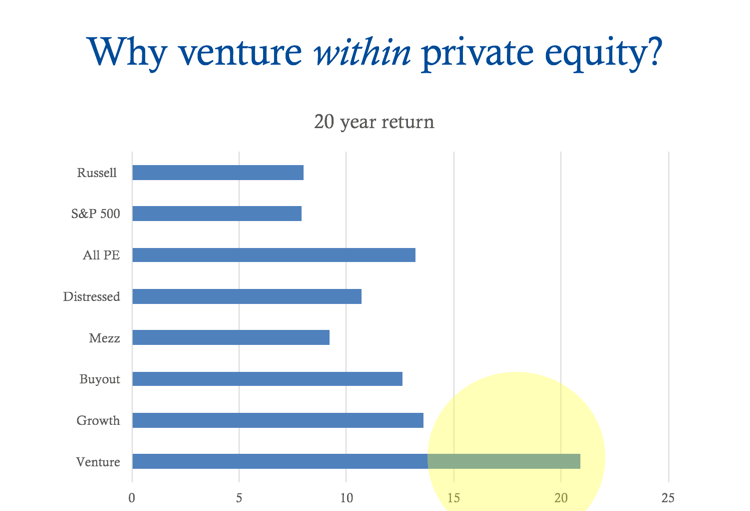 Focusing just on venture capital, this 2018 benchmark from Cambridge Associates shows the impact early stage venture has on returns.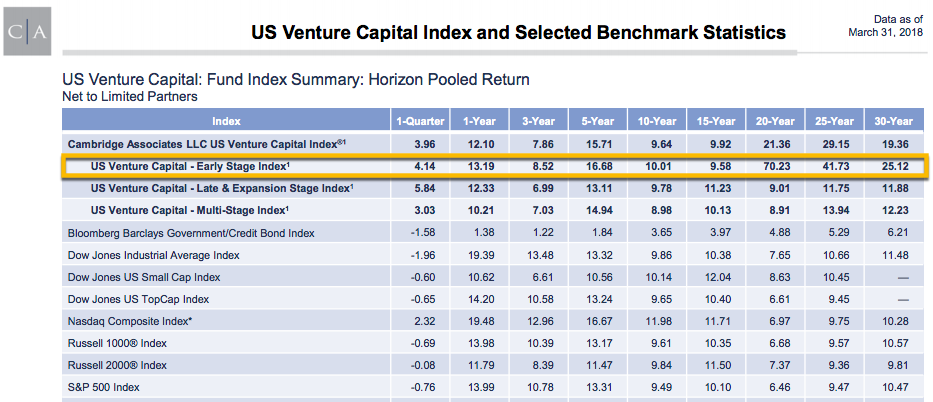 2. The right geography for the next big venture capital opportunity. Another strong pattern in venture capital is geography. Here's a look at the distribution of venture capital distribution per capita, from the Martin Prosperity Institute.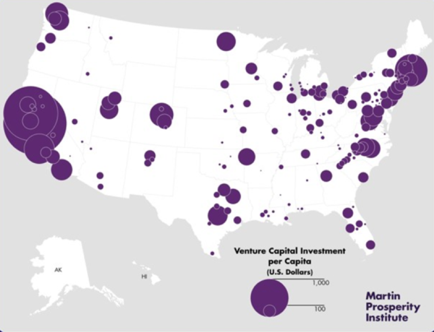 What you notice is the overwhelming access to venture capital in California, Boston and New York. That's because most VC firms are located in those geographies and prefer to invest close to home. I was recently speaking with a seasoned venture capital fund investor in the Bay area, and he said that the only Tier 1 is the San Francisco area. To him, and to many on the West Coast, New York and Boston are emerging ecosystems and only the Bay is a mature venture capital ecosystem. If that is true, what is also true is that its hey day was in the past, when it wasn't so "mature."
The best returns in venture come from early stage, and that's not practiced well on the West Coast, where the high cost of living, insane job competition for developers and sales, and other factors make it tough to stand up your first startup.
3. The right companies for venture capital. The third factor that puts perspective on where the next wave of venture capital returns will be flow from is the distribution of high growth companies. From recent 2016 research from the Kauffman Foundation, this is where the United States is creating high growth companies, the type venture capital invests in. To keep it simple, red and orange in this graph mean fast and good: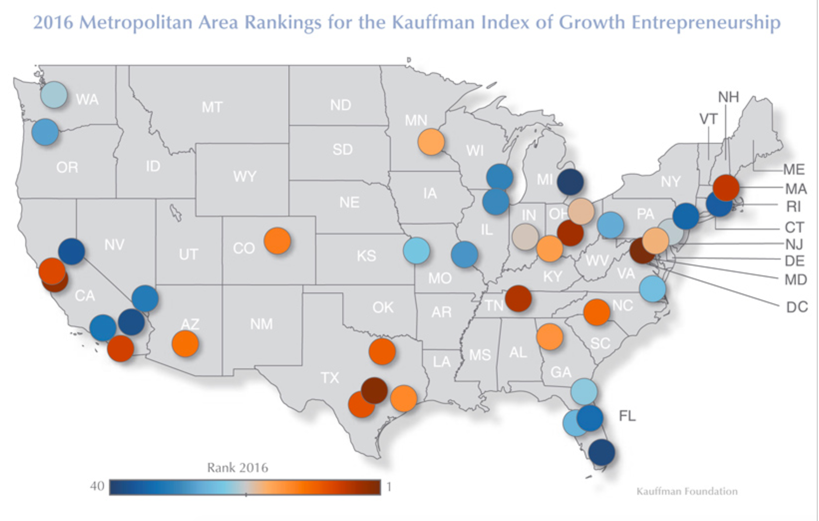 Notice how many of the high growth companies that exist today are being built outside of the zone of ready access to venture capital? Texas, Tennessee, North Carolina, Georgia, Ohio–these are the real hotbeds of high growth.
While California and Boston appear on the map, certainly, it's also true a lot of the fast growth there didn't start there, but rather moved for investors.
Kauffman research pointed out that "dense and diverse" environments are highly correlated with creating faster-growing firms. The Southeast, with 40% of the U.S. population and some of the most diverse demographics in the country, is in a prime position. It is the only region of the country growing at 20% or more as people come for the decent climate and the affordable cost of living. The next wave of great venture capital investments will likely be made in the heartland, not on the coasts. With such an over-concentration of venture capital access in so few geographies, investors in venture capital have to take a careful look at the underlying asset being invested in–high growth firms–and plan accordingly.
If you know a software startup looking for early venture capital funding outside of Silicon Valley, please invite them to share their story with Valor Ventures.