The corporate innovation process
For startups like Margaret Martin of augmented reality engine CN2, finding the right way to approach corporate clients took time. Fortunately, she had a mentor in H. Brock Kolls, who helped her navigate the Coca-Cola Enterprise system successfully. Along the way, she learned some guidelines for how to successfully work with the Fortune 500. It's paid off in relationships with not only Coke, but half a dozen large enterprise clients.
Here are the highlights from a recent presentation Margaret, Brock and others shared, hosted at Tech Square Labs and sponsored by 352, a technical partner skilled in developing digital products successfully for large companies:
https://youtu.be/fre-yEs72qY
Finding out what corporations need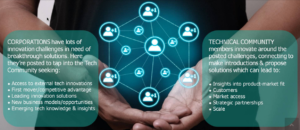 One of the challenges startups have in attracting corporate customers is poor needs diagnosis on the part of the corporation, according to Brock. That's one of the reasons he's learned to pull together one pagers that define a need and a budget.
Many of these are posted, and distributed, for free through TechConnectHub. You can sign up for free to be notified of new corporate innovation needs as they are identified.