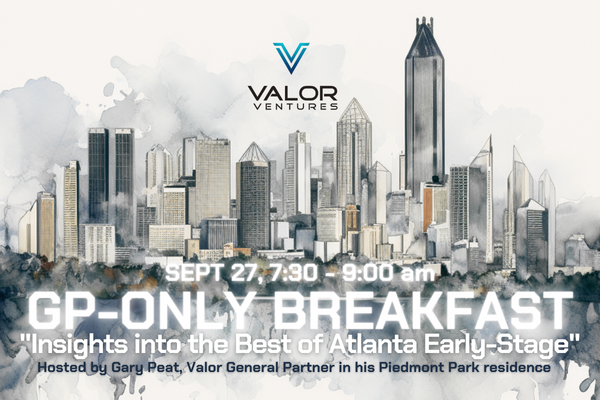 Join the Valor investment team in the home of Valor general partner and IC team member Gary Peat, known for leading cloud SaaS deals as diverse as SecureTax, Relatient and Ingenious Med. Valor leads seed deals in B2B SaaS startups out of our Fund 3. GPs of early-stage venture capital firms and Kauffman Fellows are invited to share insights on VC early-stage opportunities in the Atlanta area.
Private breakfast in private home located in midtown on Piedmont Park
Please request reservation.
Due to the private nature of the venue and limited seating capacity of Gary's generous but still not infinite dining room table, please allow your request to be approved by our team, at which time you'll receive a calendar invitation with directions and address.
Thanks for your interest in this unique event during Atlanta's innovation week. Looking forward to seeing you there!