Valor is proud to back Capway, a platform to reinvent financial literacy and financial outcomes for 60 million under-banked and unbanked Americans.
From their Atlanta headquarters, Capway is in the process of rolling out their unique debit card to thousands on their waiting list.
"Valor understands who we are and the importance behind our why. Anyone can write a check, but having an investor like Valor is much deeper than just money. They are a partner in creating financial opportunity for everyone."
"Valor is excited to add local juice alongside visionary Silicon Valley VCs," says Lisa Calhoun, general partner at Valor.VC. Capway's lead investor is Initialized, which has multiple unicorns in tangent spaces including Coinbase, and renown consumer brand investor Maveron.
Capway offers a suite of solutions including full financial literacy modules, mobile banking and deposits, and partnerships with companies eager to reach underserved financial customers. As the U.S. continues its journey to a cashless society, bringing the previously-bankless into the economy is a critical need and a huge opportunity.
Founder Sheena Allen says, "The ability to change the dynamics of an archaic financial industry that has not been friendly nor fair to everyone is the biggest reward in being part of CapWay." It's a huge target market and huge opportunity, and that's why Inc Magazine recently called Sheena out as one of the 100 Female Founders Building Innovation. Sheena understands this challenge personally. As an app developer, a Millenial, and a child of rural Mississippi, she's lived on "both sides" of the financial literacy fence. "My grandma used to keep her money in a sock," she shares.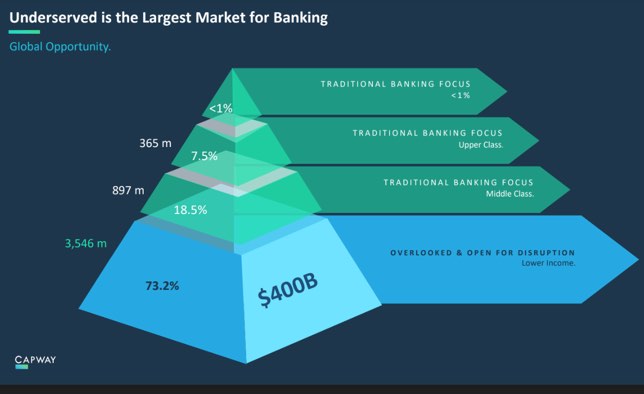 By creating grade-specific financial literacy and partnering with visionary companies, Capway is building a unique distribution model that reboots today's financial system with relevance for people living on the margins, on minimum wage, and away from solid financial education.